Excursions at Springvale and Wilsons Promontory
It was my second time joining Pinoy Hikers in Victoria. Amid the assignment deadlines, financial struggles, and sleepless nights, I still pushed myself to come. Why? I want to momentarily forget the challenges I was facing. Escape to a scenic landscape, have fun, connect to people, and create good memories.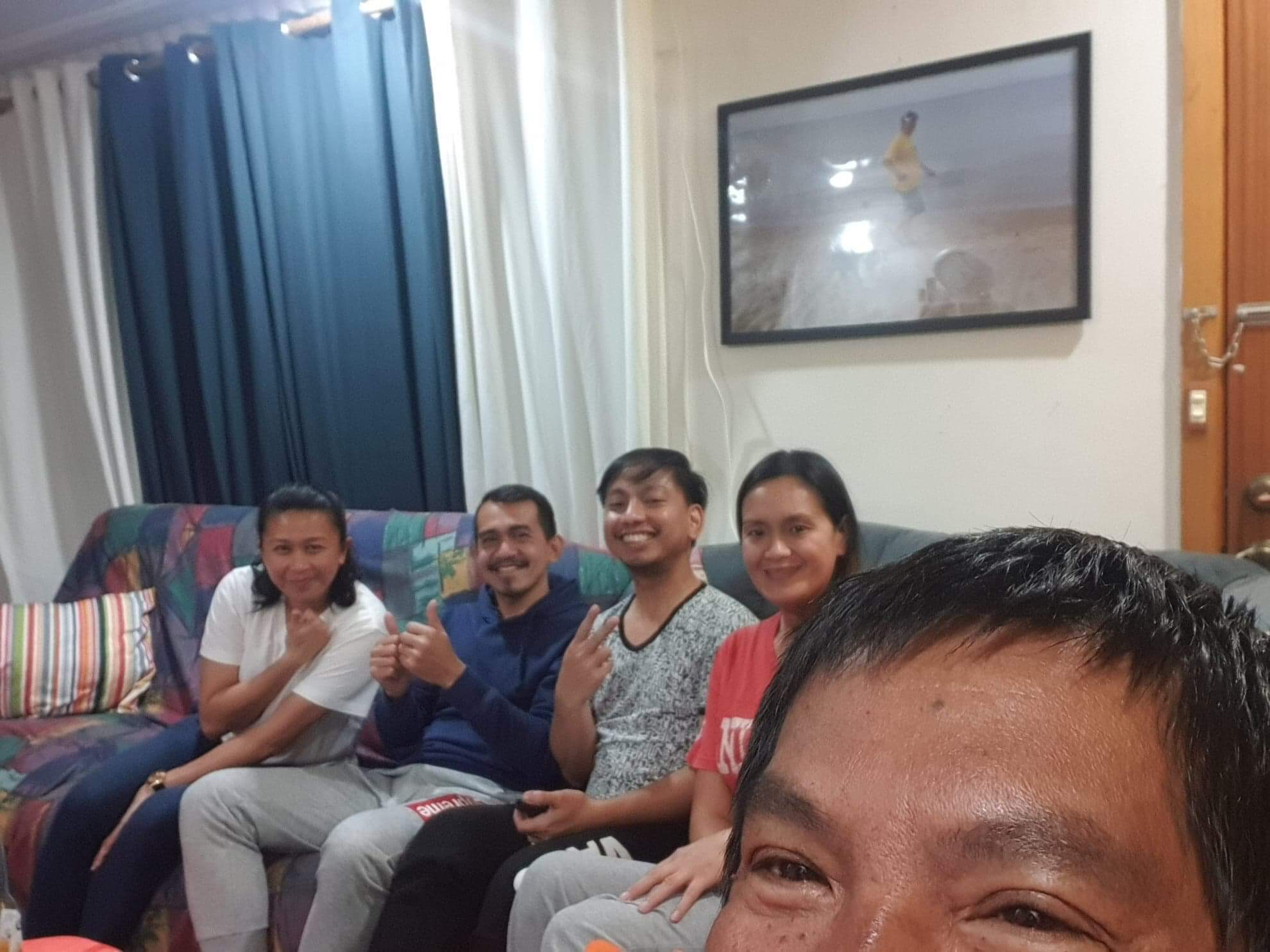 Southeast Part
I live in Cranbourne, Southeast of Melbourne. Our designated meeting place was at Springvale Station. We have to be there at 4:30 AM sharp. Good luck! In that wee hour, no trains are running. Paying an Uber ridiculous amount was not an option. So, my adventure started Friday night with a sleepover.
Physically Present, Mentally Absent
Kuya Bong and Ate Darlyn welcomed me warmly to their home sweet home. I met them from our last adventure at Macedon. Seeing them again was really nice. Then, two others were already there: Gil and Ana. I had to excuse myself for a moment because I need to submit a reflection paper due before midnight. I went inside a vacant room so I can focus. But I can hear them talking and their topics were really interesting. Eventually, I went out and joined their conversation. I was half working and half socialising.
Now We Can Talk
Few hours later I was able to finish and submit my paper. I could now engage to any thrown topics. That time the talk was about Philippine politics. It was a complicated subject.
11/10 Rating
Since I was already free, I got the time to explore their house. The decorations were delightful and cute, especially their bathroom and toilet. If their place was an Airbnb, I would give them a rating of 11/10. Highly recommended. Plus the two of them are generous and hospitable. I was reluctant to stay there for the night but they made me feel at home. It was a right decision to be there.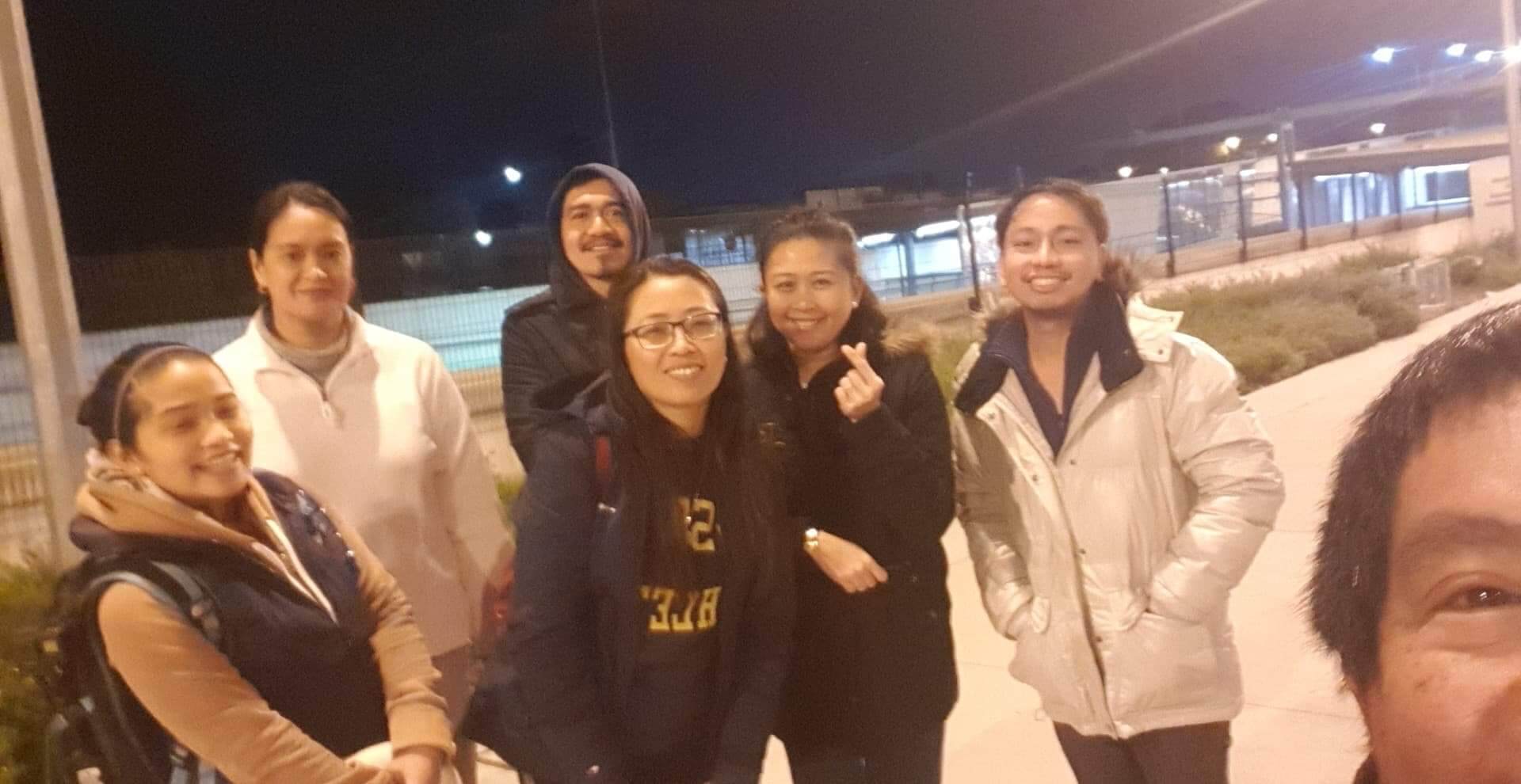 Meetup at Springvale Station
I woke up before my alarm rang at around 3:30 AM. I made coffee mate with coffee and drank it fast. When we were all ready, we drove to the train station to meet the others. It was chilly outside and the car windows were covered in mist. Later on, Abbie, Jessa, and Esther came. We were now complete and ready to go.
To Sleep or Not To Sleep
Fog enveloped our car as Kuya Bong drove it towards our destination. My sleepy eyes which closes instantaneously was constantly in a tug-of-war with my habit of not sleeping when I am seated in the front. I tried to be awake because I believe I have to share the driver's burden. Unfortunately, I lost several times. My eyes felt like they have a life of their own. The coffee mate didn't work! But he insisted we can sleep. Thank you and sorry!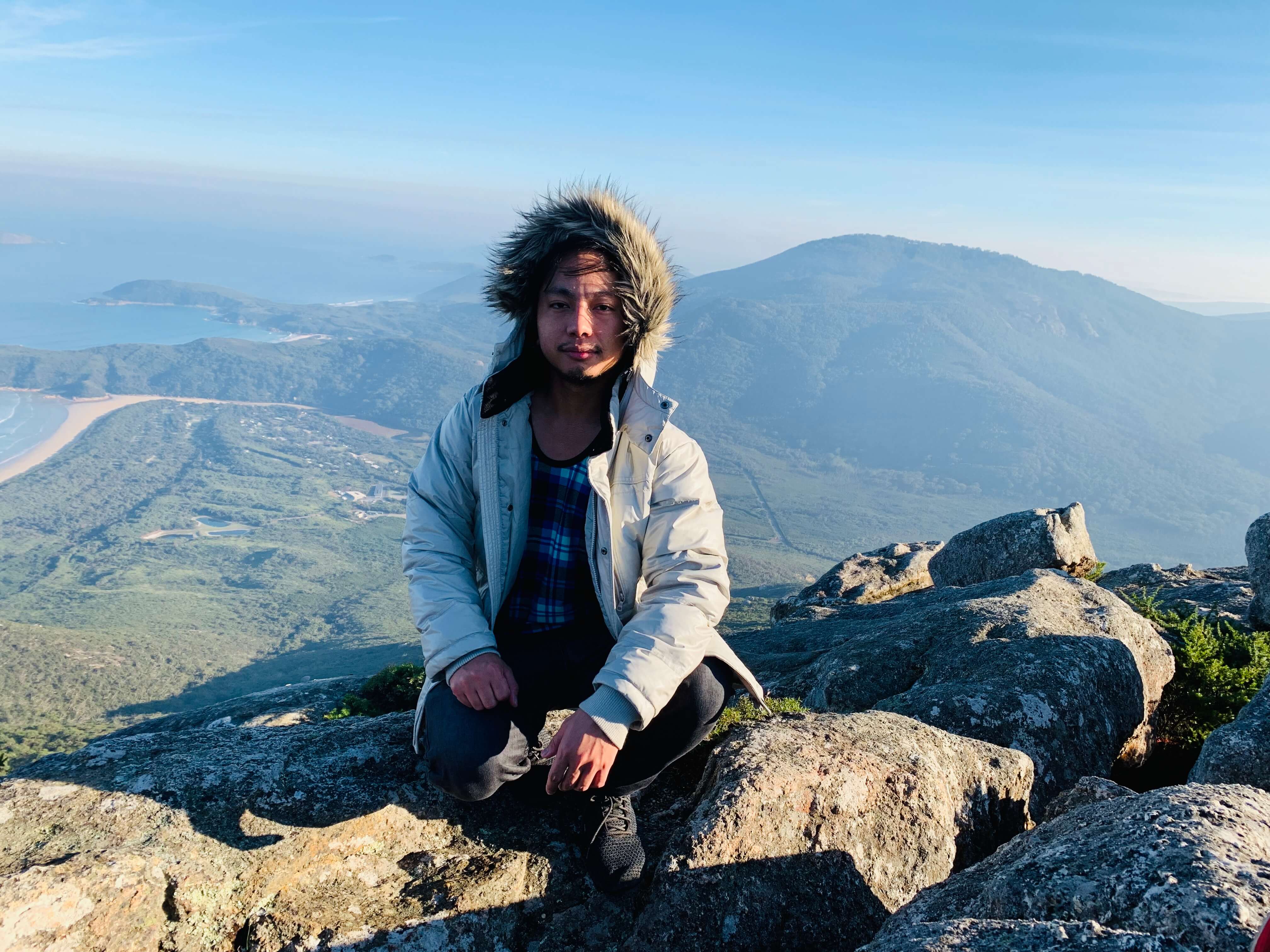 Past, Present, and Future
I try to regain my consciousness every now and then. We talked about various stuffs: how Kuya Bong sees with his heart, my experience about getting an eye Lasik, Jessa's relationship situation, Ana's IT work, some Philippine history, and more. The surrounding was still dark and foggy — a good prerequisite to a horror story.
Part Where We Started to Hike
We came at Mt. Oberon at around 8AM. Our hiker friends had just also arrived. I got out of the car and saw familiar faces; people I had seen and talked to before. We said our hellos and then chatted a little. It was so great to see them again.
The ascent wasn't so bad. But slowly on, some of us removed layers of our clothes, one by one, as we felt the heat from our excursion. While walking, I was happy that some people recognised me from my previous blog. Thank you guys! People like you inspire me.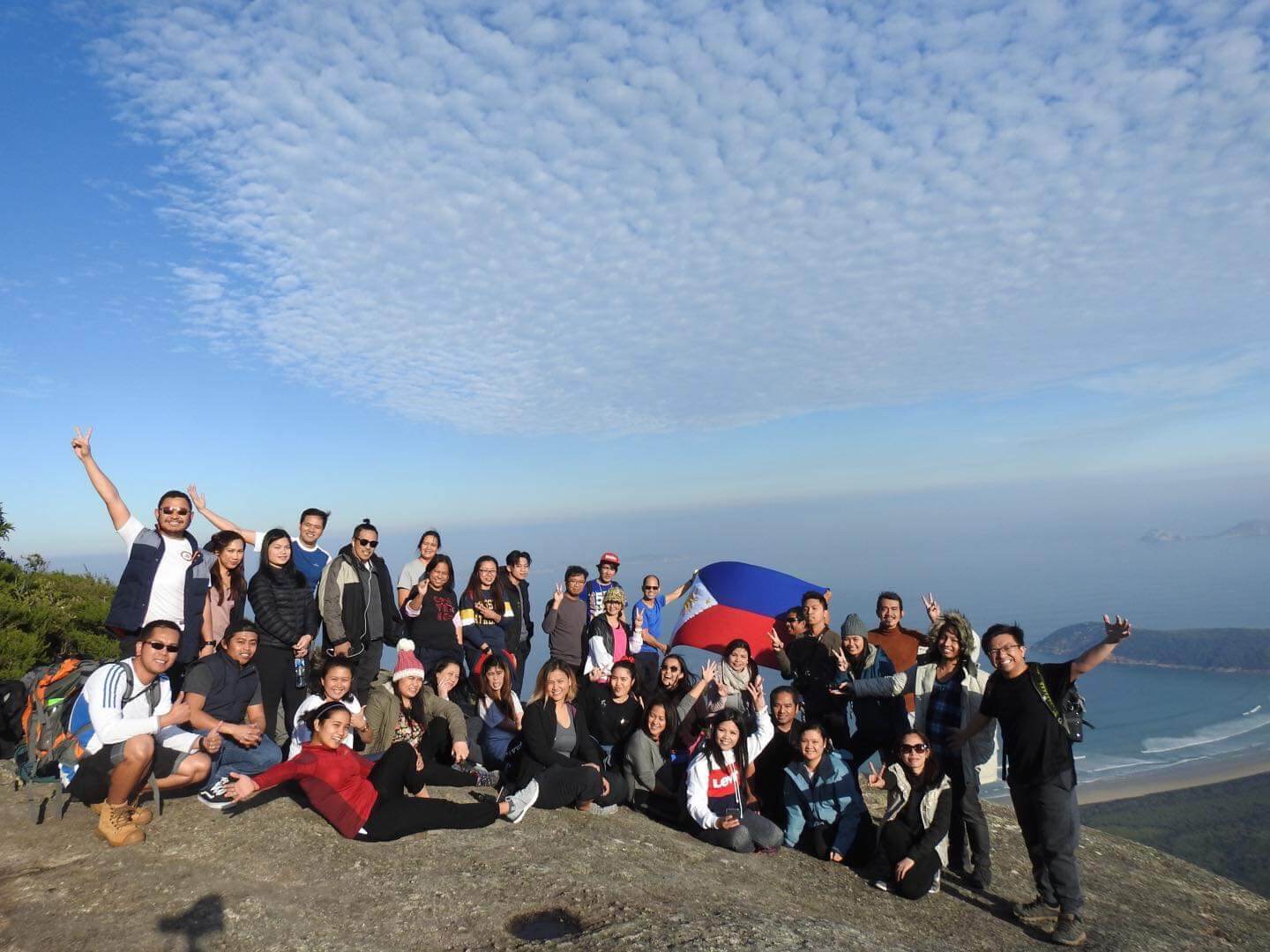 Modern Portrait
We eventually reached the summit after almost an hour. I was in awe of the scenic view. It was so pleasant to look at. The lake, the trees, and the blue sky. It was all perfect together. Breathtaking moments like that need to be remembered. So we took our chance to take lots of pictures. Different angles and different poses imaginable. Made a digital portrait of our charming self with the magnificent view as the background.
Grumbled Signal
I could stay there the whole day without getting tired of watching that perfection. But my stomach grumbled; signalling me to go. It was past time for it to be fed. We descended later on. Surprisingly it felt that going down was easier. Our backpacks seemed to weigh less. Pull of gravity… and food.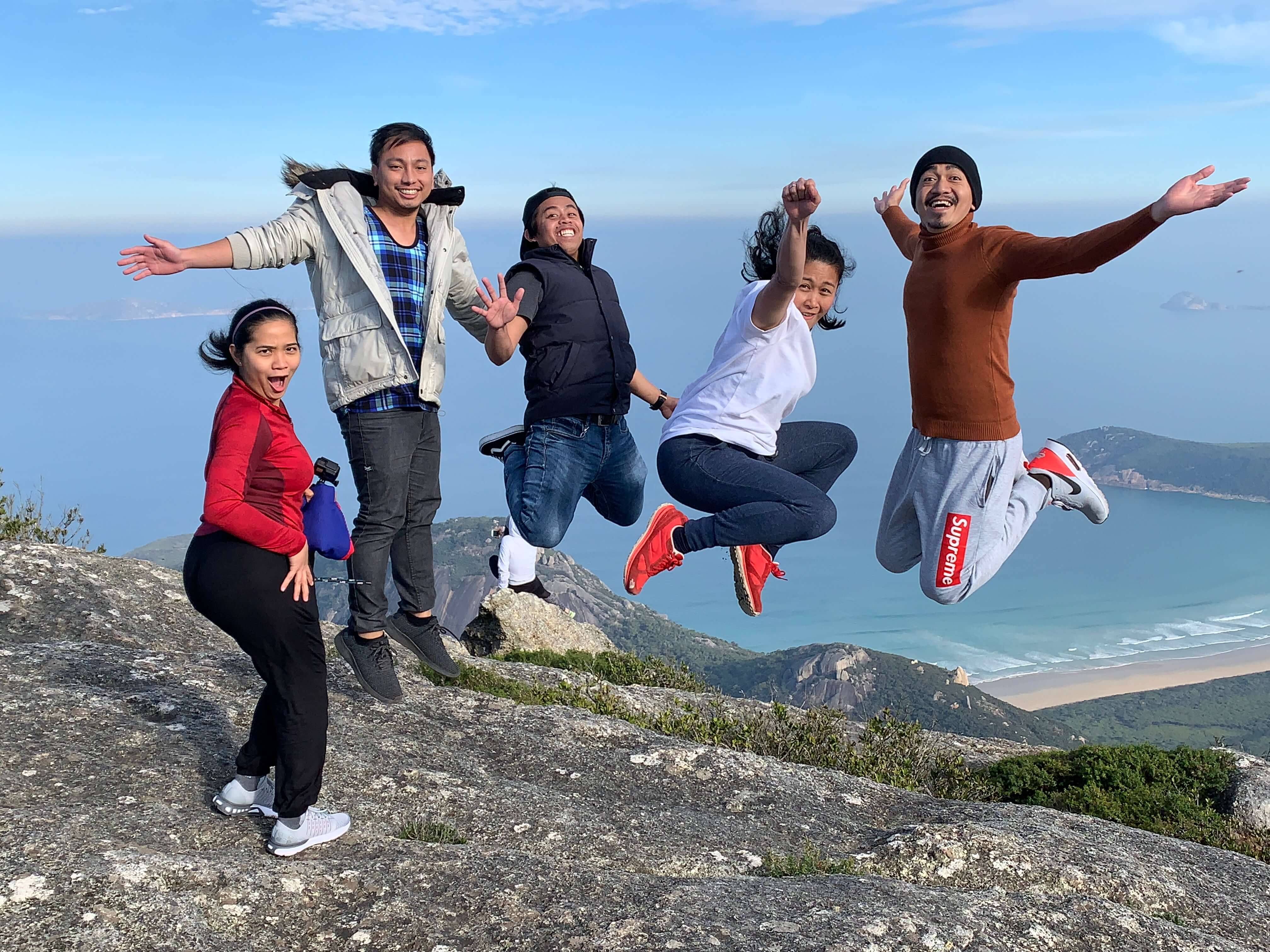 Never Alone
Luckily I was never alone while walking down the path back to the car park. I was with my fellow Filipino countrymen who, same as me, gambled in this magnificent land down under. I had a good chat with some of them. We talked about the things which make us busy. The things which granted and led us to be in the place where we are. Despite our different circumstances and different ways, our shared culture and blood bound us together in that moment. It felt like home.
Bare Beach
We went to the Squeaky beach for lunch. I was expecting … but it was bare. On my mind I was thinking how could we eat there on that place. There weren't any tables nor chairs. We could put on picnic blankets but it was windy and the sand will spoil the food. Maybe it was better to find another place?
Was It a Joke?
A little bit later, Ms. Darlyn and Kuya Bong said they brought tables and chairs. Then, Kuya Bong reiterated that they brought 29 chairs! But? How? I was with them and I didn't notice those tables and chairs. I thought maybe Kuya Bong was just joking. There was no way we could have those. We went back to the car park and one by one transported various sizes of bags to the beach.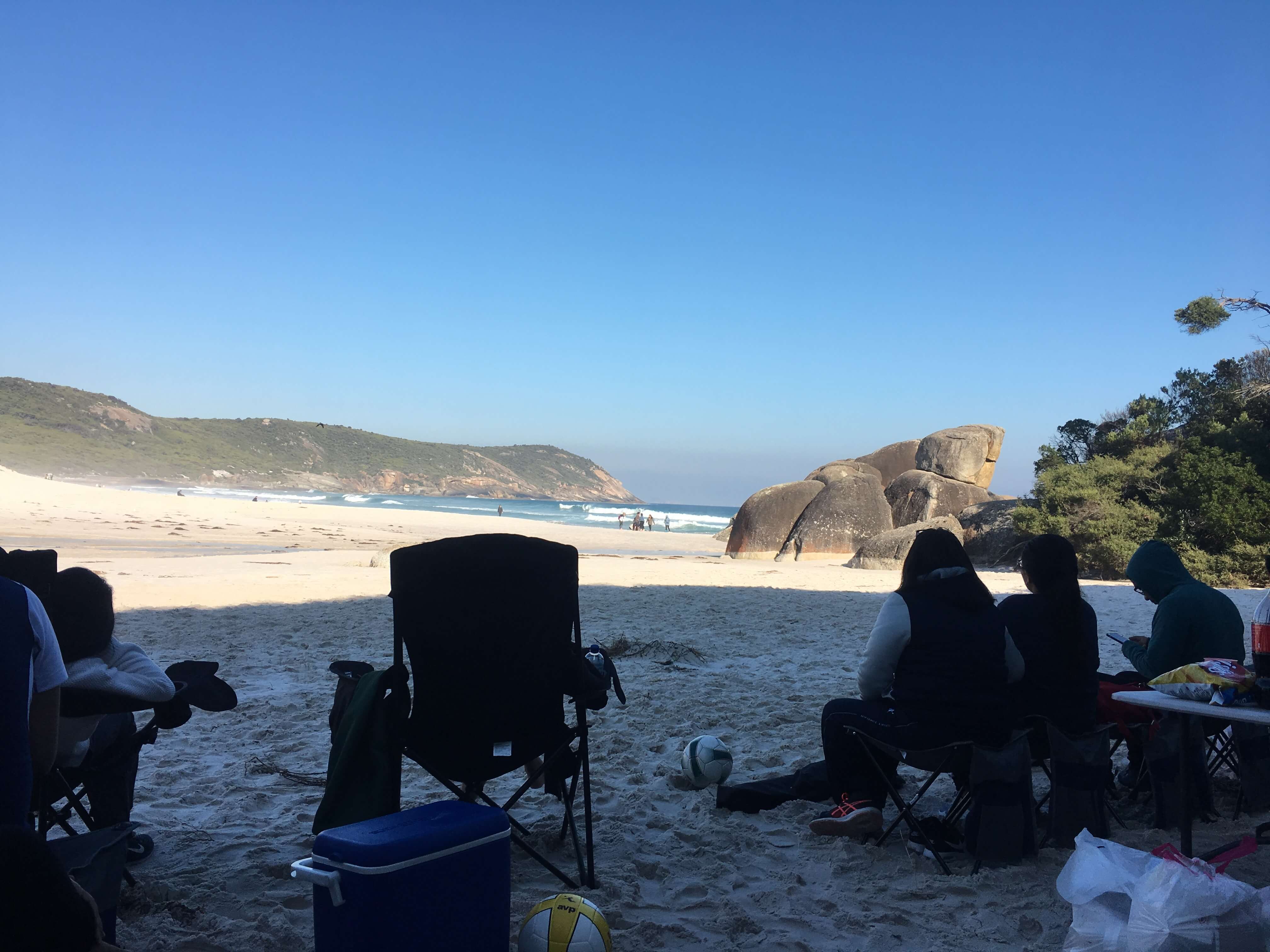 Surprise, surprise!
I was amazed when I opened a bag which contained a long camping chair which could let six people sit together. That was really awesome and cool! I never thought such thing exists and I suddenly want one too! Then, two folding tables were set up for our foods. After everything was arranged, the beach didn't look bare anymore.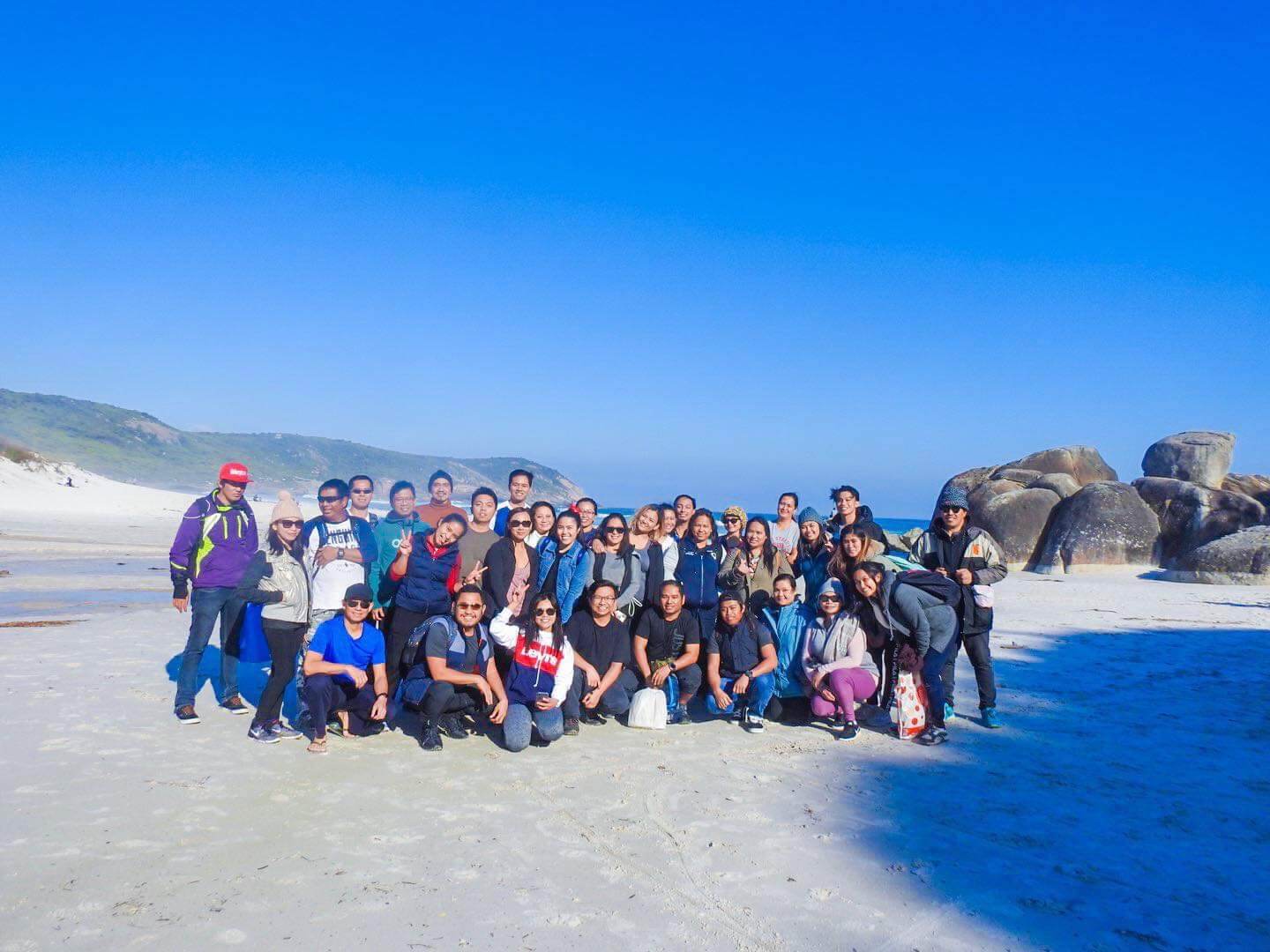 The Beach is Alive
There were various chicken dishes, desserts, and drinks. Special shout out to Ms. Esther's soup and Jessa's leche flan. Foods were eaten, K-pop songs were played, and stories were shared. What more? Mayor and Mayora also brought a portable volleyball. I applaud their efforts for this. The beach was livelier than ever.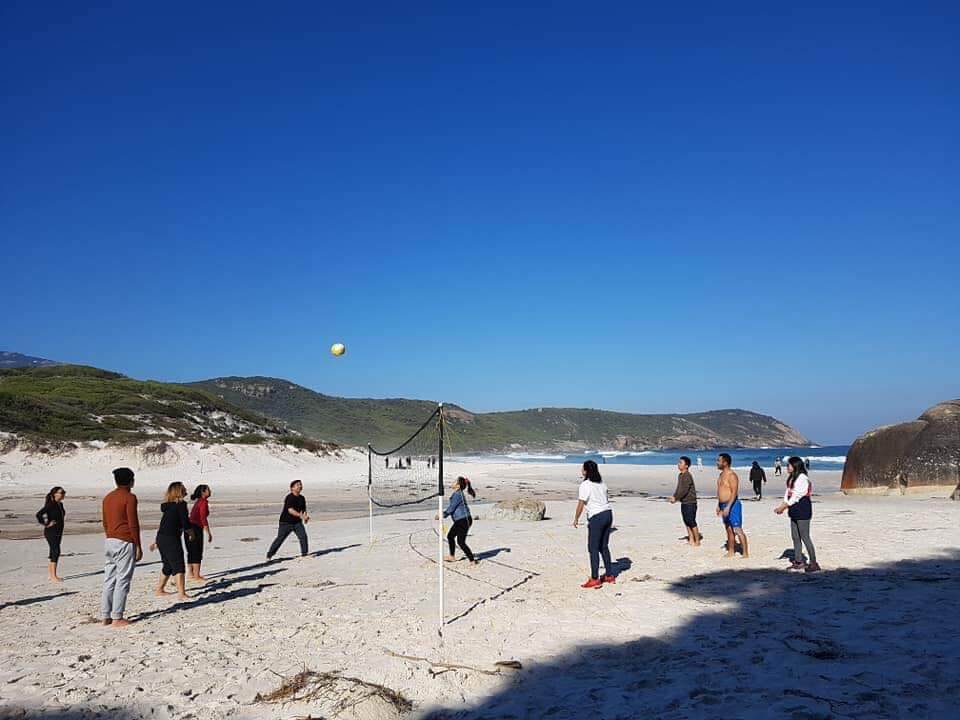 Let's Play a Game
Having a good time was a priority. So I joined playing volleyball even though I don't technically know how it works. As long as I hit the ball with my arm over the net then that was enough. At first we didn't implement scoring. Then there was, then none, then there was. We just laughed at our mistakes and then cheered on when we toss real good. It was a friendly and fun competition. In the end, my team won! All were good sports.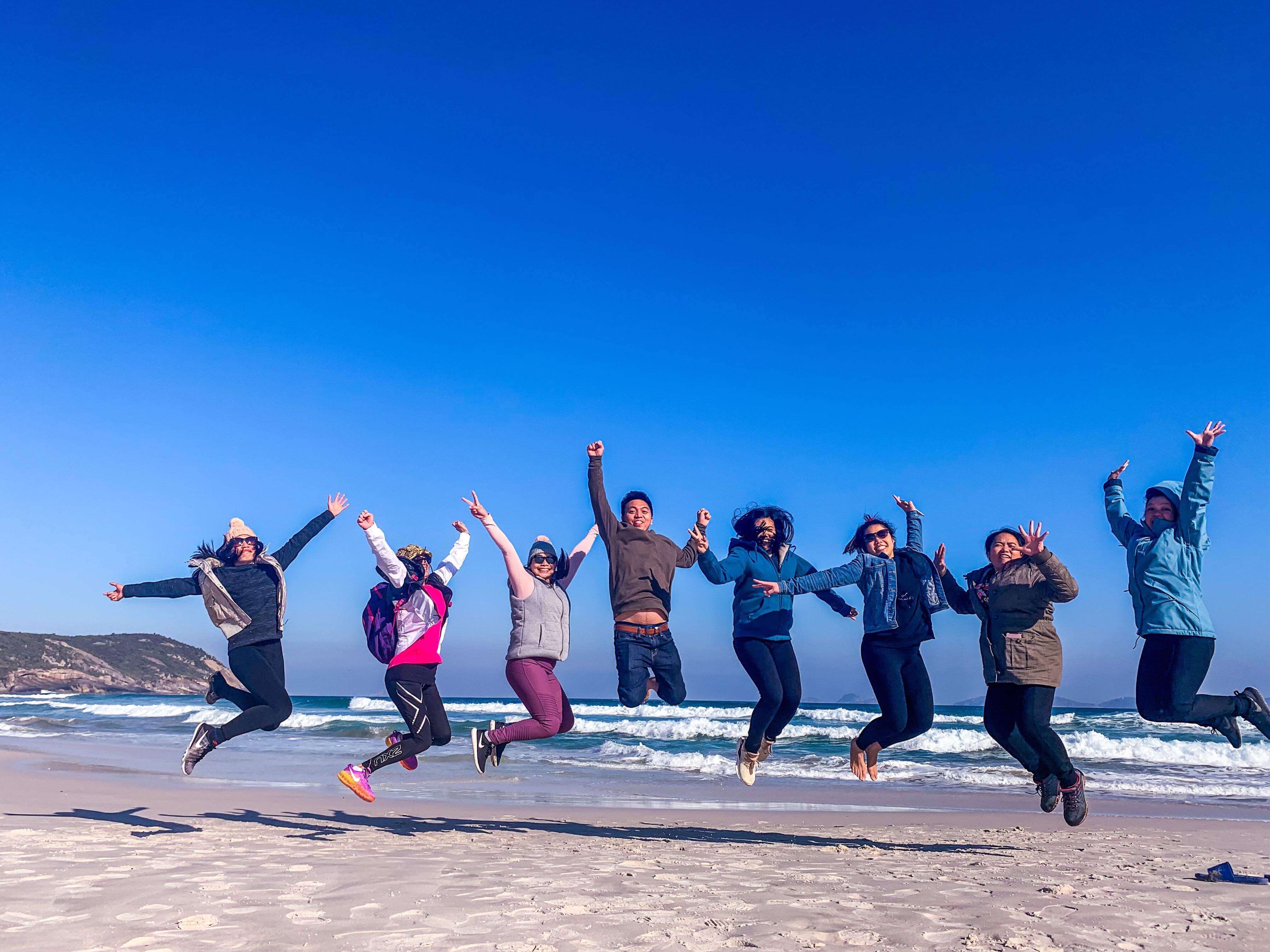 Jump Shot
Later on, other people went to the shore to take jump shots. Someone was talking loudly we could hear it from a distance. I felt like I was also with them when they were taking those pictures! I guess they have counted 1-2-3 a hundred times before they were finally satisfied 🙂 Cute outcome.
Thank you, next!
Then, it was time to go. We packed our things and cleaned. Several goodbyes and thanks were exchaged. Off we go to our way back home. It was another successful trip. I'm looking forward to our next excursion.