Something inside me urges me to blog. Is it just a phase or will it last for a long time? Was it just like when I was excited studying photoshop and then suddenly got bored when I already knew the basics of photo editing?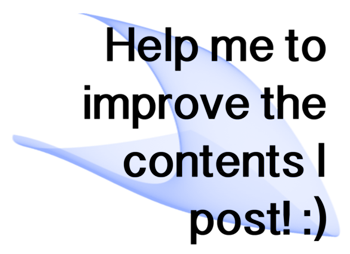 I don't know yet but I think blogging about some random things would make me busy now. Many stuffs are coming through my mind and I just want to share them to the world. From personal adventures and discoveries, tutorials, reviews or whatever I come up with, I'm gonna try to post about it.
I've been reading books, blogs, journals, and any other sort of reading materials to help myself improve writing. To formulate new ideas and to learn techniques. Grammar, ideas, sentence construction, all about those english stuffs! Through time I will be really good. I think this will lead me somewhere far more than I can imagine. Who knows?
I'm going to use tumblr now as a starting point. One day I am going to buy my own domain name and web hosting — I'm really excited about that day! That day when I think I already have a worthy content to post. I really love it right now. I am so happy to see my posts. It's like I've accomplished something. So, if ever you are a concerned citizen and wanted to help me, feel free to comment here. Your constructive criticism will keep me going. Thank you.